Netapp
NetApp storage systems offer IT efficiency, business agility,
high application uptime, and simplified data management.
NetApp storage systems are hardware- and software-based data storage and retrieval systems. They respond to network requests from clients and fulfill them by writing data to or retrieving data from disk arrays. They provide a modular hardware architecture running the Data ONTAP operating system and WAFL (Write Anywhere File Layout) software. Data ONTAP is the operating system for all NetApp storage systems. It provides a complete set of storage management tools through its command-line interface, through System Manager, and through remote management devices such as the Service Processor (SP) and the Remote LAN Module (RLM).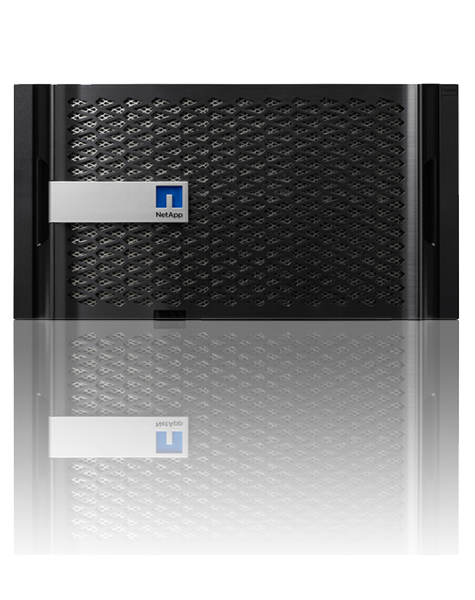 Flash Storage Systems
NetApp All Flash FAS
Accelerate your critical applications and eliminate performance silos, using the first enterprise-class all-flash array.More detail
NetApp EF-Series All-Flash Arrays
Deliver response in microseconds to your most demanding enterprise applications, such as databases and data analytics.More detail
FAS Storage Systems
FAS8000 Series
Accelerate business operations and deliver superior TCO with the industry's only unified scale-out storage architecture.More detail
NetApp FAS2500 Hybrid Storage Array
NetApp FAS2500 hybrid storage arrays deliver superior ROI, reduce your operational cost, and minimize risks for growth.More detail
NetApp FlexArray Storage Virtualization Software
Increase the flexibility and ROI of your existing arrays with the industry's only unified storage virtualization platform.More detail
NetApp FAS Disk Shelves and Storage Media
NetApp disk shelves and storage media provide flexibility, reliability, storage efficiency, and cross-platform leverage.More detail
NetApp Data ONTAP: Flash Optimization Features
Optimized for flash, clustered Data ONTAP software delivers world-class performance and reduces overall system cost.More detail
VMware
Virtualization is at the heart of VMware's "one cloud,
any application, any device" architecture. It's the single most effective way to reduce IT expenses
Virtualization is a powerful technology that enables you to reduce and consolidate your physical hardware requirements, improve your network, create agility and scalability for IT, and serve as a foundation for a true software-defined data center.

See how various types of virtualization can work for your organization and industry and learn which VMware products can support your needs.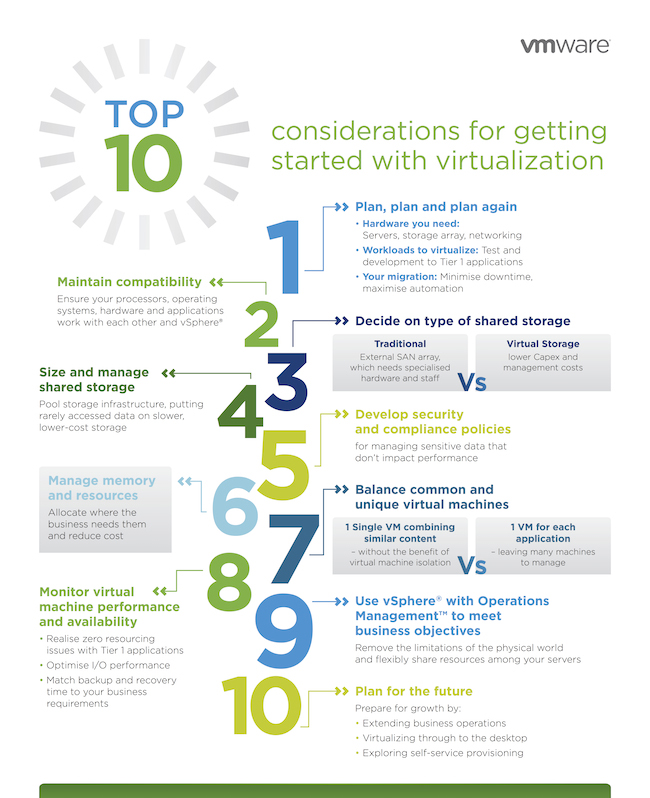 Server Virtualization
Most servers operate at less than 15 percent of capacity, leading to server sprawl and complexity. Server virtualization addresses these inefficiencies by allowing multiple operating systems to run on a single physical server as virtual machines, each with access to the underlying server's computing resources. But virtualizing one or two servers is just the beginning. The next step is to aggregate a server cluster into a single consolidated resource – which improves overall efficiency and reduces cost. Server virtualization also enables faster workload deployment, increased application performance, and higher availability. Furthermore, as operations get automated, IT becomes simpler to manage and less costly to own and operate.

To get you started on your server virtualization journey, VMware offers vSphere with Operations Management. It will virtualize your x86 server resources and provide critical capacity and performance management capabilities. It is designed for businesses of all sizes to run applications at high service levels and maximize hardware savings through even higher capacity utilization and consolidation ratios.
Check also VMware vSphere
Network Virtualization
Network virtualization is the complete reproduction of a physical network in software. Applications run on the virtual network exactly the same as if on a physical network. Network virtualization presents logical networking devices and services—logical ports, switches, routers, firewalls, load balancers, VPNs and more—to connected workloads. Virtual networks offer the same features and guarantees of a physical network with the operational benefits and hardware independence of virtualization.

VMWare's NSX virtualization platform delivers for networking the capabilities VMware already provides for compute and storage. By bringing the operational model of a virtual machine to your data center network, you can transform the economics of network and security operations..
Check also VMware NSX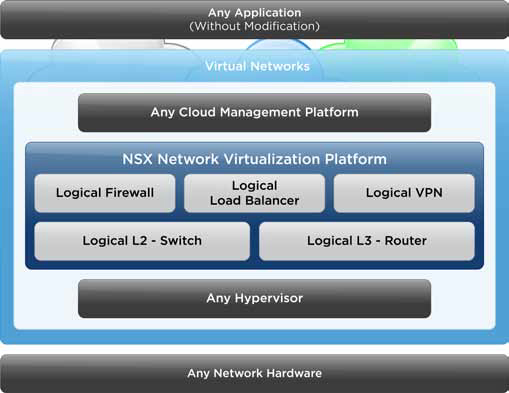 Splunk
We make machine data accessible, usable and valuable to everyone
Splunk is a powerful platform for analyzing machine data, data that machines emit in great volumes but which is seldom used effectively. Machine data is already important in the world of technology and is becoming increasingly important in the world of business.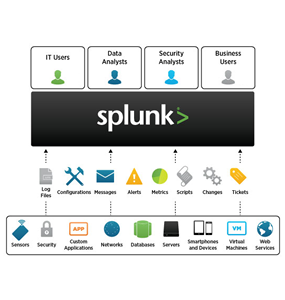 Splunk® Enterprise
Splunk Enterprise makes it simple to collect, analyze and act upon the untapped value of the big data generated by your technology infrastructure, security systems and business applications—giving you the insights to drive operational performance and business results.
Splunk Enterprise Security
Splunk Enterprise Security (ES) is a premium security solution that provides insight into machine data generated from security technologies such as network, endpoint, access, malware, vulnerability and identity information. It enables security teams to quickly detect and respond to internal and external attacks to simplify threat management while minimizing risk and safeguarding your business. Splunk Enterprise Security streamlines all aspects of security operations and is suitable for organizations of all sizes and expertise.

Whether deployed for continuous real-time monitoring, rapid incident response, a security operations center (SOC), or for executives who need a view of business risk, Splunk ES delivers the flexibility to customize correlation searches, alerts, reports and dashboards to fit specific needs. ES can be deployed as software together with Splunk Enterprise or as a cloud service together with Splunk Cloud. Splunk Enterprise Security helps organizations address the following: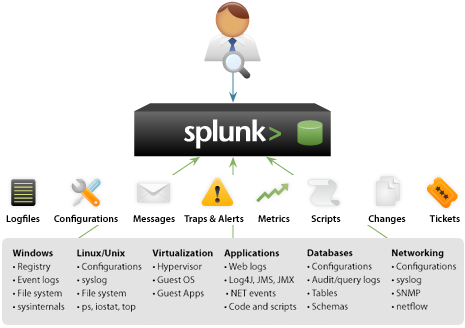 Sophos
Your Security Needs. Our Expertise.
Sophos,a security software and hardware company. Sophos develops products for communication endpoint, encryption, network security, email security and mobile security as well as unified threat management. Sophos is focused on providing security software to the mid market and pragmatic enterprise from 100 to 5000 Seat organisations.

See how various types of Security can work for your organization and industry and learn which Sophos products can support your needs.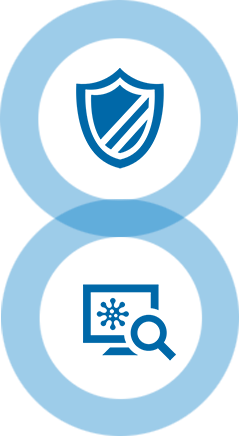 Sophos and Threat Prevention
Stay protected against new-age threats to your network and your endpoints with a multi-layered approach to advanced threat protection.
Perimeter Protection
Sophos Anti-Spam scans inbound, outbound and internal email to eliminate over 99% of spam with our Live Anti-Spam real-time updates. Sophos Anti-Malware Protection is based on a high-performance anti-malware engine supported by SophosLabs. Protection goes beyond signature-based detection to include advanced, proprietary techniques like code emulation and behavioral analysis to detect obfuscated or polymorphic threats. Sophos next-gen IPS offers advanced protection from all types of modern hacks and attacks using a uniform signature format also supported by SophosLabs.
Advanced Threat Protection
Sophos protects your organization from data exfiltration by identifying infected or compromised hosts inside the network and their communication with command-and-control (CnC) servers. The database is constantly updated by SophosLabs through pattern updates. Sophos' revolutionary Security Heartbeat links your endpoints with your firewall to give you faster discovery, positive identification, and automated action to detect and prevent advanced threats faster. The Heartbeat status is integrated into the security policy settings of your firewall, allowing you to isolate or limit the access for compromised systems until they are cleaned up.
Check also Security heartbeat
Data Protection
Data is the new currency for organizations. And its integrity is their biggest concern. This becomes more and more the case as most corporate data is generated and consumed on mobile devices – increasing the risk of data loss exponentially. Sophos offers a complete data protection solution on multiple devices and operating systems. Whether your data resides on a laptop, a mobile device, or on the cloud or other file sharing method to allow for collaboration, Sophos keeps your corporate data protected without impacting your performance.
Data Protection through Encryption
Sophos data protection solutions protect your data whether on mobile devices, home computers, USB sticks or on the cloud, by encrypting all your devices and data transparently. Experience secure collaboration and control over files within your organization with Sophos SafeGuard. It goes beyond simple folder permissions and guarantees that only the right people access the right files while still allowing IT to manage file back-ups.
see also Sophos SafeGuard Encryption
Data Protection over Email
Protect your data by keeping your users away from targeted attacks, spear phishing, malicious email URLs and more with Sophos Email filtering. Reduce your risk to data loss over email by protecting sensitive data with automatic email encryption and pre-packaged DLP definitions. Stop inadvertent data leakage by encrypting and digitally signing your sensitive emails, automatically and transparently. Our unique patent-pending SPX Encryption allows users to manage their encrypted mail in their preferred email client—online or offline, desktop or mobile.
see also Sophos Email Appliance
Dell
Build Your Business with powerful. scalable server solutions from Dell
Dell PowerEdge servers maximize operational effectiveness and optimize flexibility at any scale. Focused on accelerated performance, enhanced automation and simplified management, the PowerEdge line-up of servers can help you experience worry-free computing through:
Greater IT efficiency
Superior IT agility
Better IT reliability
PowerEdge servers are scalable, flexible, efficient solutions platforms with streamlined and intuitive management that can help you meet changing missions and drive business success.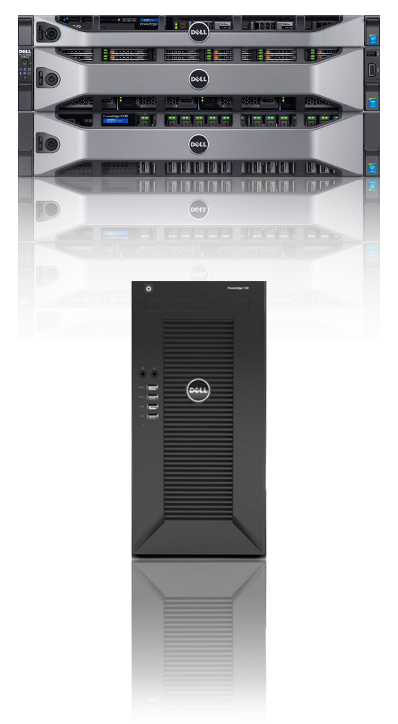 PowerEdge rack servers
Achieve the performance, efficiency and versatility you need to scale smarter, manage more efficiently, and innovate faster. PowerEdge rack servers are designed with carefully balanced processor memory, IO and internal storage resources. Innovative agent-free management, based on the intelligence of our powerful integrated Dell remote access controller (iDRAC) with Lifecycle Controller, helps you more easily deploy, monitor, manage and maintain servers across their entire life cycles.
PowerEdge tower servers
Designed by customers and engineered by Dell, PowerEdge tower servers bring powerful, efficient, versatile operation to users ranging from SOHO to SMB to the data centers of large institutions. Configuration flexibility and large internal capacities allow our towers to grow with you, at your pace, as your business or organization grows.
Hewlett Packard Enterprise
One infrastructure, with one management platform. That's the Power of One.
We call it Just Right IT. Simple, reliable, and affordable technology that helps you create opportunity at the speed of today's business. Stay in front with HPE Just Right IT solutions specially designed to help small and midsize businesses overcome their unique challenges.
Why Choose HPE BladeSystem?
Speed Deployment of IT Services
On average, HPE BladeSystem users deploy new services in 64% less time. That can mean shrinking 20-hour deployments to less than one hour.
Make IT a Center of Innovation
Users are 15% more productive due to improved performance and availability of important business applications.
Reduce Business Risk
HPE BladeSystem users experience an average of 91.3% less downtime after deployments.
Citrix
CITRIX OFFERINGS
Citrix delivers applications and desktops to any device while strengthening data security, reducing costs and increasing user productivity.
Citrix Virtual Apps and Desktops provides virtualization solutions that give IT control of virtual machines, applications, and security while providing anywhere access for any device. End users can use applications and desktops independently of the device's operating system and interface. Using the Citrix Virtual Apps and Desktops service, you can deliver secure virtual apps and desktops to any device, leaving most of the installation, setup, and upgrades to Citrix. You maintain complete control over applications, policies, and users while delivering the best user experience on any device.

The service allows you to manage on‑premises data center and public cloud workloads together in a hybrid deployment. You can connect to public clouds Microsoft Azure, Amazon Web Services (AWS), and Google Cloud, plus on‑premises hypervisors such as Citrix Hypervisor, Microsoft Hyper‑V, Nutanix AHV, and VMware vSphere. The hybrid, multi‑cloud approach gives you the flexibility to deploy different applications in different resource locations worldwide.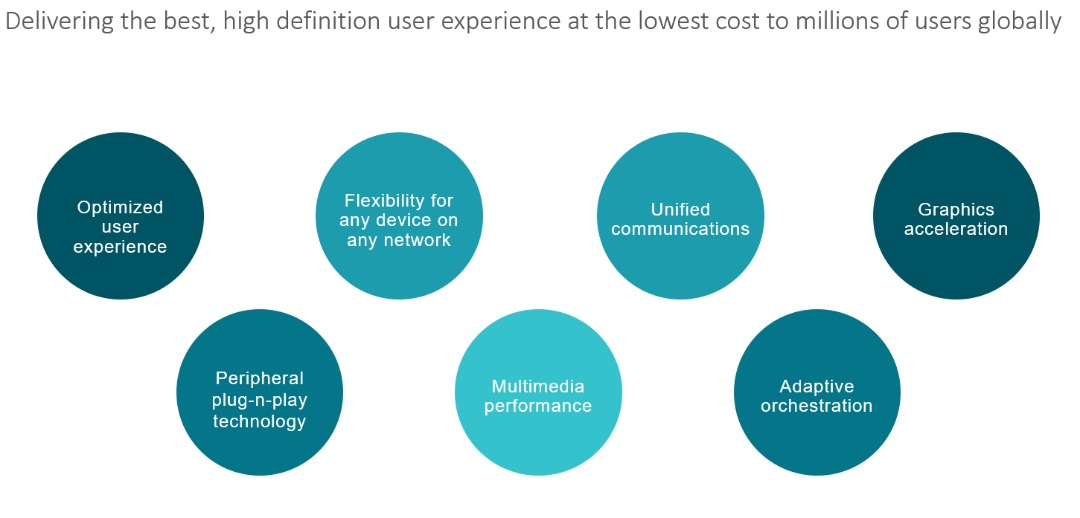 Nimble Storage
Absolute Performance to Power the Flash Data Center
get in touch
For purchase information and general inquiries, please complete the form below and a Fusion Data representative will get back to you shortly.